The Oregon Century Farm & Century Ranch Program is a statewide recognition program honoring farmers and ranchers who have worked the same land for at least 100 years. The program is administered through the Oregon Farm Bureau Foundation for Education and is partially funded through a partnership of the Oregon Farm Bureau, Wilco, Oregon State Historic Preservation Office, & OSU Libraries' University Archives.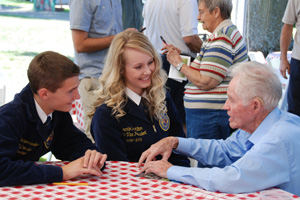 Since the start of the program in 1958, 1,200 farms and ranches across the state have been registered. Oregon has one of the oldest agricultural heritage programs of this type in the entire nation.
There is also a Sesquicentennial Award for farms that have existed for 150 years or more. Thirty-nine farms have reached the sesquicentennial mark so far.
Successful applicants receive a certificate signed by the Governor. A durable metal road sign to identify their property as having historic Century Farm or Century Ranch status is also available. Additionally, each family is honored during a special ceremony and reception at the Oregon State Fair. A formal application process is required for properties to be considered for the program.
For more information, contact program coordinator Andréa Kuenzi at andrea@oregonfb.org or 503-400-7884.